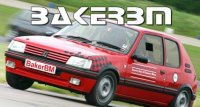 BakerBM is committed to manufacturing precision made automotive products for Road, Track and Rally prepared Peugeots and Citroens.
Our complete product range and online shop can be found on http://www.BakerBM.com

We have recently invested in our CAD/CAM design package. CAD/CAM design facilities enable us to take a concept and visually create it using CAD. From the CAD design we can simulate the most efficient manufacturing method before even taking a cut on the prototype. Using CAM software we are able to generate and feed a programme to one of our CNC machines. Then the machining can start! 

All our products are designed and manufactured to the highest standards, all testing is done prior to commercial sale. A proportion of our work is subcontract machining.
You can reach us on 01922 276 606 as well as the mobile 07870 934 034 
Follow us on our Facebook page: https://www.facebook.com/pages/BakerBM/358044574222720

Edited by cybernck