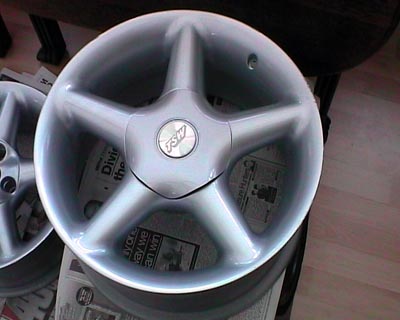 Introduction:
There are two ways you can refurbish your alloys; pay someone else to do it or do it yourself. I bought some cheap TSW stealths that were in desperate need of reconditioning; they had been curbed heavily, painted over and the paint was bubbling. I wanted them for track days so was initially going to get some used tyres to stick on them BUT I still wanted the car to look half-decent even going round the track. So I priced up refurbishing them with quotes ranging from £20-£30 / wheel. As I wanted them as a cheap set of wheels I decided to do it myself.
this is what the wheels looked like before refurbishing...
Preparation For Painting:
The paint was so thick on the wheels to sand it by hand would have taken ages; the wheels were chipped and bubbling and I thought it would have been to much hard work to do it this way so I got them shot-blasted for £10 / wheel. This takes of all the paint completely including inside the centres and wheelbolt holes. The company who did the wheels also "acid etched" them to prevent moisture absorption and paint easier. It's not a perfectly smooth finish because of the hammering the wheels take when being shot-blasted so I needed to uses a few layers of primer to get them smooth. After each coat of primer I wet'n'dried them using 800 grade paper.
...and this is after
Painting (Top coats):
After the final sanding of the primer I washed the wheels and dried them using a fan-heater and painted the insides first on each wheel and then the topside to reduce overspray. After a few coats of silver I put the laquer on which (of course) started to run. After a day or so I t-cutted the wheel faces to get rid of the overspray (there was a lot) and flatten the laquer off to get rid of the slight orange peel you get with most spray paint.
they look as good as new
Summary:
The wheels look too good now to waste on just track days but I've always said that the standard 1.9 wheel is the best looking 15" wheel for a 205 so I'll see what they look like when I get some tyres. Paint finish is pretty good for what I used although some of the corners of the spokes could be a bit smoother. I want to see what they look like on the car especially the front where the brake discs should fill the wheel!