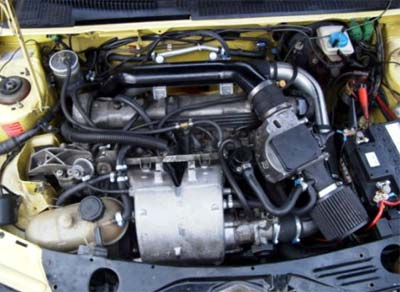 Note:
Engine used in this conversion is XU9JAZ, a catalytic converter version of GTI 1.9 engine, with compression ratio of 9.2:1 and 120 bhp as standard, also a Motronic 1.3 ECU instead of the usual Jetronic one. The compression ratio was not altered as this is a low boost application (max ~0.45bars), so DO NOT try to perform this conversion on a standard 130 bhp engine without lowering the compression ratio!
---
Introduction:
Here the next story about my 205 (or the first, depends which one you read first).
As you might have read I took a NOS system home from my holiday and put it on my 205. After driving around in it I had nothing to complain about the power, but after some weeks it got rather expensive because the bottle was getting empty very fast. It lasted about 2-3 weeks. So I put the NOS system up for sale and it was sold the very next day. The I got back to my 'original' plan to build a turbo on my 1.9. After calling around a bit, I found a complete 2 litre turbo engine for about 1500 dutch guilders. So, off I went to get it, but when I got there the complete frontend of the engine was busted; injectorrail busted, injectors busted, throttle body busted. So I could do nothing with the complete engine. Had a little chat with the guy and made a deal: I could get everything I needed from that engine for a very reasonable price.
The parts and the job:
This is about everything that has to be put under the hood, so it will get a little crowded under there:
most of the parts you'll need
Took everything home and started looking for other parts I needed. Got oil lines and had some other connections made. Then the day came to get started. Started with taking the exhaust manifold off and removing the cooling fluid tank (no room for it anymore). Then fitted the new manifold with turbo and had to completely rebuild the front exhaust pipe. Some very sharp bends had to be made!!
Garrett T2 turbocharger
Made some hoses and connections in the air department and fitted a K&N air filter. Removed the oil cooler and put in a cooling fluid tank of a BMW 520i. I had to lengthen about 5 cooling hoses to reach the new cooling fluid tank... Getting the oil from the turbo to go back into the engine was a big problem too because there is no original place to fit the oil line. But after looking around a bit I saw an oil sensor at the back of the engine, which wasn't being used, so I used that hole to make the oil go back to the engine. I also used some parts of a Ford Sierra Cosworth like the intercooler and fuel pressure regulator. The intercooler is about the only one I can fit under my original radiator.
This is how it looks now, all you need to imagine is an air filter, cooling fluid tank, couple of hoses, air hoses and other stuff. Still working on it so not all the components are fitted yet:
the job half-way through
The results:
Then the moment occurred... will it run? Turn the key and...YES! It runs! Not good, but it runs. Then the hard part came, adjusting and fine tuning everything, adjusting, trying out, adjusting, trying out... etc... All I have to do now is work on the engine running when it is cold, it isn't much when it is cold. But when the engine is about 70 degrees Celsius it goes very good!! Had to fool the engine temperature sensor to get a reasonable cold start, but it works.
Next a little test from 50-75 Mph. Only in 3rd gear: 4.55 sec. Not bad at all! About as fast as with the NOS. The next picture is what I had left after everything was completed. Think I'll put it in the garage somewhere, never know when I might need it again:
old parts stored in a box
Here are the pics of what the engine looks like after putting a turbo on my little 205:
the engine bay is much more filled in now
the turbo is sandwiched between the head and the bulkhead :-)
This is about the end of my little story about my little yellow cannon on wheels.