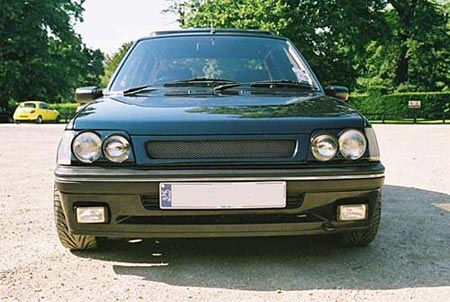 Introduction:
OK, this is just a small guide mainly for those who bought their lights second hand and haven't got a set of instructions!
Morette twin headlights, the type that retains standard indicators
The job:
Looking at the back of the drivers headlight you will see more wires than the passenger light. This is the relay. Coming from the relay you should have one RED wire coming from it, this wire should be attached to the battery via a fuse.
There should also be a yellow wire with a scotch lock attached. This is the main beam feed. It connects into the wire on your original 3 pin plug wires.
rewiring detail
The pic above shows, instead of using a scotch lock I just stripped the wires back and soldered them together. This is a much safer way of doing it.
Next there are two blue wires, they are both together, one is short and the other long. The long one goes all the way over to the other light and connects to the one of the two grey wires coming of the high beam light. The shorter one then does the same but on the drivers side light. The remaining wires on both lights are earths and can be connected to the earth block near each end of the radiator.
The next two wires are for the sidelight and plug into the existing sidelight plug. Then you just need to plug it all up!
I will try and get more pics to explain what I mean! If you get stuck on anything contact me and I'll do my best to help you out!