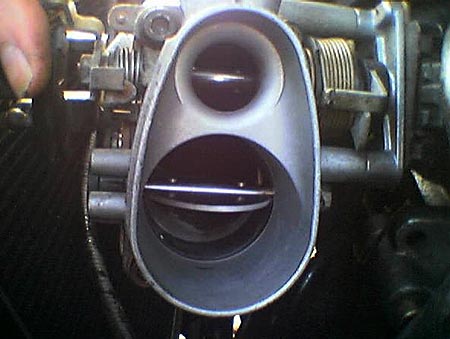 Introduction:
This article describes how to swap the standard throttle body for a VAG 2.8 V6 throttle body (36% larger choke area).
Article uses a VAG A4/A6/Golf VR6 2.8 V6 throttle body, fitting to a Citroen BX16v (Mi16).
Lots of pics taken with Camera Phone - sorry about this, but a picture means a thousand words!
I take no responsibility for damage caused by this article, it is only a guide for the modification.
All modifications should be declared to your insurance company.
VAG throttle body in place
First stage of the job:
Clearance for the larger choke butterfies needs to be made!
Make a cardboard template - this can be done by pressing it onto the new throttle lightly, then cutting out the indentaion left on the card.
Line up template with mounting holes, then mark manifold using marker/scribe.
Use a rotary hand tool (in this case a Dremel-Multi) with a boring tool to remove majority of metal.
This is the bored opening nearly to size.
Use a stone grinding attachment, then fine finishing tool to get an exact fit to new throttle.
Holding the throttle up to the manifold and placing two bolts through the holes to line it up will show where excess metal needs removing.
Next Stage:
Very little needs to be done to the new throttle body - simply swap the throttle switch with the Mi16 one. Ensure contacts operate when throttle is closed - listen for "click".
Mounting points (now redundant, usually for Audi air box) can be removed.
Vacuum take off point and breather connector (manifold side) can be sealed using liquid metal.
Standard air pipe can be utilised with little problem - use pan of hot water to soften rubber, then stretch over exsiting gromit on new throttle.
Last stage:
Fit it all back onto the car.
Now you have to make a bracket for the throttle cable.
To be continued...