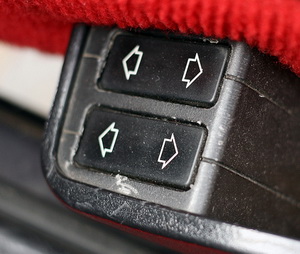 My passenger electric window either goes up slowly or not at all, why is this?
Have you ever gone to open your passenger window from the drivers side and find it travels very slowly; sometimes embarrassingly stops halfway.
Before you attack the door, remove the door card to remove the motor, which incidentally results in scraped knuckles, read on.
The likelihood is that the cause of the problem is that the drivers side switch for the passenger window is not making a good connection. As this circuit is linked with the passenger side switch it affects it directly, essentially bad connection doesn't allow electricity to flow.
Swap the drivers side passenger switch for your known good switch to test.
If that fails then do similar thing to replace the passenger side switch.
Note: If you have access to a spare window switch
then it will help. It not use the drivers window one for testing.