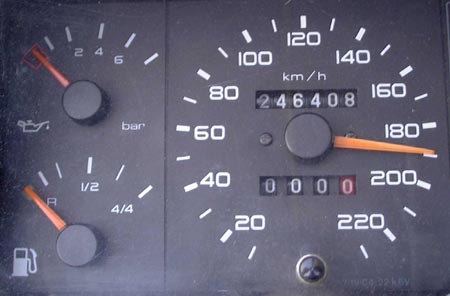 Introduction:
With the aid of a digital camera, I thought I'd collect some info on instrument panels, as from time to time similar questions arise.
And here's the info:
Let's take a look at my old instrument panel.
- Left panel: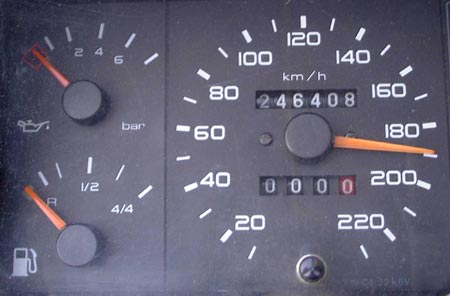 Before you ask, no, I didn't take this picture while driving

. The reason I replaced this unit was the speedo not working. I removed the front plastic, and found that the needle was sticking so I set it to some high figure

. Anyway, notice the division on the fuel meter - it's quite linear.
- Center panel:
Nothing unusual here, maybe the icon in the middle: it indicates low coolant level. I want to add here, that the STOP light lights up whenever the coolant temp. or the oil pressure becomes critical. The handbrake warning light can also indicate low brake fluid level, if it comes on while driving.
- Right panel:
Again, no surprises - but if you have the UK version with no numbers, it might come handy.
Now observe the panel I got from a scrapyard to replace the one above:
- Left side:
The division on the fuel meter is not like the one above - the half empty sign is roughly at the 2/3 of the scale. If you notice that you burn up the second half of the tank much quicker than the first, this may be the cause: you have a sender for the first type, but an instrument of the second type.
- Right side:
The other one had 2-digit numbers on the revs counter, and the redline is different - otherwise I noticed no difference in working.
Now lets take a look behind:
The back of the panel:
The main connectors are at the top (4x), the speedo cable socket is evident, and there is a 4-pole blue connector for the revs counter. The reason this panel has so many illumination bulbs missing is that I scavenged the rest for my other panel

.
Pinout of the connectors, left to right on the picture. Wire numbers in square brackets, where I could find them. Remarks in round brackets.
A (white connector fits):
1. Oil temp. warning light
2. Oil pressure signal [30B]
3. Same as A1
4. Coolant temperature warning light (connected to C2) [47]
5. Ground (connected to A10, B8, C4, D8)
6. Coolant temp. signal [47A]
7. Oil temp. signal [30A]
8. Water in the fuel filter warning light (diesel only)
9. Catalytic converter overheating warning light
10. See A5 [M3]
B (green):
1. ?
2. ?
3. Instrument lights + (from dimmer) [25]
4. Instrument lights ground [M25]
5. Manual choke open warning light [75]
6. +12V [33]
7. Coolant level warning light [47B]
8. See A5
9. Direction indicator light, right [38A]
C (blue):
1. Battery/charging warning light [7A]
2. STOP light (connected to A4)
3. Handbrake/brake fluid level warning light [70]
4. See A5
5. Direction indicator light, left [37A]
6. Parking light indicator [55R]
7. Dipped beam indicator [R1]
D (yellow):
1. Pre-heating warning light (diesel only)
2. Oil pressure warning light (connected to C2) [30]
3. Front brake pad wear warning light [69]
4. Full beam indicator [71]
5. +12V (same as B6)
6. Fuel level sender [65]
7. Fuel tank empty warning light [65A]
8. See A5
Separate revs counter connector:
1.
2. Ground [M32B]
3. Revs counter [112]
4.
Extra info:
And finally some warning lights you don't normally see: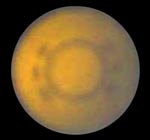 Top left corner of speedo: front brake pad wear. (The pic is unfortunately blurry, but you should see a circle surrounded by dashed lines.) May also come on if your pads don't have this connection and the end of the wire is not insulated properly.
Bottom left corner of speedo: pre-heating. Used only on diesels.
Bottom left corner of revs counter: manual choke open. Only on carburettor models.
Top right corner of revs counter: catalytic converter overheating. Only on cat models.
Bottom right corner of revs counter: water in fuel filter. Only on diesels.
There is another warning light on Motronic models, resembling a K (transistor): it shows engine management problems. (If someone can supply a picture, please do so.)
That's it, hope you find it useful.